Archive for the 'scans' Category
Sebastian Stand and his 'Fresh' co-star Daisy Edgar-Jones have been photographed by Carlos Serrao and Monica May for The Phone a Friend Issue of Flaunt Magazine, out pretty soon! The co-stars also gave an interview to the magazine. You can find all the photos and the interview right below.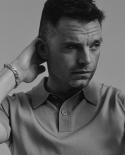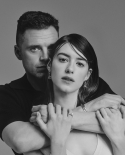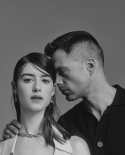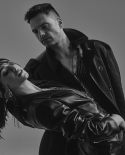 FLAUNT | Ever had a bad dinner date? It's not the law attraction—rather the law of averages—that ensures anyone putting themselves, out there on the love-seeking scene today will encounter their fair share of whackjobs, weirdos, and ghosts. But no dating disaster you've been through could be worse than what befalls the characters in gripping new Rom-Com/ Horror film, Fresh (Hulu). Starring young British actor Daisy Edgar-Jones (Normal People) and seasoned leading man Sebastian Stan (Captain America: The Winter Soldier, I, Tonya, The Martian), Fresh begins by exploring the dynamics of the contemporary dating world… before crossing the boundaries of… taste…

Stan plays Steve, a handsome, single doctor who accidentally (but we realize later, of course, on purpose) strikes up a conversation with Daisy Edgar-Jones' Noa in the produce aisle. It's all so natural. They exchange numbers. He texts her. They go on a date. It's a good date. Since they met IRL and not through an impersonal app interface, they skip a few steps and quickly get intimate. Noa's best friend, Mollie, (played with verve by Jojo T. Gibbs) finds Steve's lack of digital presence disturbing, but enjoying the love-buzz, Noa throws herself into her exciting new romance.

But Noa's soon to find out—the very hard way—that behind this charming facade, 'Steve'—a pseudonym—is really quite something else. Instead of the sophisticated getaway he promises her, she's face to face with primal fears, and her sweet, sensitive lover is revealed to be a mix of Ted Bundy, Jeffrey Dahmer, and American Psycho, prone to Patrick Bateman-style musical interludes as he … well, that would be giving it all away. Suffice to say, in classic horror movie style, trapped in a mysterious house in the woods, Noa has to find a way to get out… And Fresh—directed by Mimi Cave, written by Lauryn Kahn, and produced by Adam McKay (Don't Look Up, The Big Short, Vice)—is the clever, knowing, and full of suspense result.

Flaunt caught up with Daisy and Sebastian in London about Fresh, cuisine, and how they found a friendship in the midst of horror.

So how is London treating you?

SS: I think it's been good, it's only been 24 hours now since we've been here. But it's been good—the rain is here, of course. A nice, cloudy, rainy day.
DEJ: I love it when it's rainy in London— it's my favorite! It's so, you know, romantic and lovely when it rains.

Daisy, you are of course a born and bred London girl. It must be nice to be home. But you've lived in London before, haven't you, Sebastian?

SS: Yeah! I was in London In 2003, when I did a year at the Globe Theatre; my college, Rutgers University, had a program at the Globe, so that was the first time I was here. In 2010, I basically lived here for a year do- ing Captain America: The First Avenger, and then I was in and out of London. And then in 2019, then the pandemic, and I lived here for another six months doing another project. So, I really do like it here. Read More
A brand new photoshoot of Sebastian Stan for L'Officiel USA is out! Sebastian is covering the Spring 2022 issue of the magazine. The magazine also features an interview of the actor, by Margot Robbie. You can find the first outtakes and the interview right below.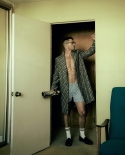 L'OFFICIEL | In conversation with his former costar Margot Robbie, Sebastian Stan shines a light on how he gets into character both physically and mentally, from roles like rock legend Tommy Lee to a charming psychopath in Fresh.

Sebastian Stan has lived many lives. From his breakout role as disgraced prep-school bad-boy Carter Baizen on Gossip Girl to Marvel's Bucky Barnes, Stan has largely managed to fly under the radar. That is, until now. Starring as Mötley Crüe drummer Tommy Lee in the hit Hulu series Pam and Tommy has planted Stan squarely in the spotlight. The miniseries, which also stars Lily James as Pamela Anderson, follows the untold story of the infamous sex tape seen 'round the world, which was stolen and leaked during the wild early days of the Internet.

His latest role sees Stan explore the horrors of modern dating in Hulu release Fresh, where he stars alongside Daisy Edgar-Jones as Steve, a seemingly nice guy who is not at all what he seems. "The movie explores the idea of this hero complex, which fucks up all our relationships with each other; the idea that there's a knight in shining armor that's gonna come and save the day," Stan says. "I've certainly fallen into the trap of wanting to be that strong guy who isn't going to be vulnerable."

Exclusively for L'OFFICIEL, Stan speaks with friend and former costar Margot Robbie about transforming himself for a role, on-set chemistry, and his favorite rom-coms.

— Sabrina Abbas

MARGOT ROBBIE: I'm gonna start way back at the beginning, when you were conceived—no, I'm joking, not that far. We physically met during the chemistry read for I, Tonya, but I had seen your tape before. I don't know if I've told you this, but I didn't recognize you at all. I think you were wearing a turtleneck and you may have even grown the 'stache. I remember being like, "Wow, this actor is so good, who is this guy? He's going to be such a find." And then I looked you up and I was like, "Holy shit, it's the hot guy from Gossip Girl and those Marvel movies!" Since then, I feel like you just keep transforming. I wanted to ask you about the more physical transformation, particularly when it comes to Pam and Tommy and Fresh. Is that something you find helpful?

SEBASTIAN STAN: I feel like the physical stuff always helps us, right? Because I'm such a self-conscious person with regard to my "Sebastianisms." Having to morph into something that's not really you is scary, but it stops me from judging myself.

MR: Do you wanna know a Sebastianism that I've noticed? You cover half your face with your hand when you laugh. I love it.

SS: [Laughs.] Yeah, I do do that. That's also my favorite emoji, by the way. Read More
Hi everyone! Sebastian Stan and Lily James did their very first interview together to promote their upcoming tv series Pam & Tommy. Indeed, the co-stars were photographed by Alexi Lubomirski for the January 2022 issue of the magazine Variety. You can find all the photos, scans and behind the scenes captures in the gallery by clicking the thumbnailsor links below.
Lily James and Sebastian Stan spent months working together on the set of Hulu's "Pam & Tommy." Yet when they recently reunited for a photo session it was a bit jarring to both actors.

"I barely met Sebastian out of Tommy Lee, and he barely met me out of my Pamela Anderson," James says. "It was really surreal to do even the Variety shoot. We were like, 'Oh, hey, so that's what you look like!'"
Please CLICK HERE to read the full article